About
Performance Journals is a new, independent brand on a mission to create a world full of happy, fulfilled athletes of all abilities.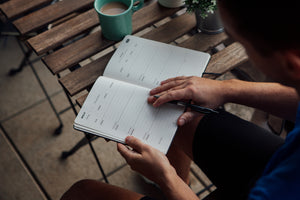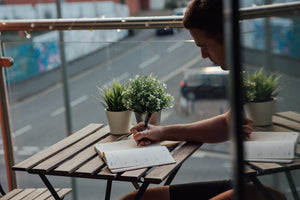 OUR STORY
Hi, I'm Nick - founder of Performance Journals.

An old running coach of mine used to say 'Rush Slowly'. In a nutshell, this means 'focus on the process'. It sounds simple, but, as a runner myself for over two decades, I can tell you - it's not always easy!

After keeping a running journal for most of that time, however, one thing I've found that helps is putting pen to paper for a few minutes each day to record your efforts and review your progress. It also gives you some great memories to look back on!

That's why I created Performance Journals - sport-specific journals to help athletes of all abilities with goal setting, planning, and recording and reviewing your progress.

Performance Journals are sustainably made, with a classic style, minimalist design, functional layout, and innovative features.

Pulling it together is a team effort, and the Performance Journals brand, website, and Run Journal has been designed in collaboration with Edinburgh-based creative design agency, White Light Media.
WHAT MATTERS TO US
PEOPLE
Sport has the power to change lives in all kinds of ways, from realising Olympic dreams to improving mental health.
We believe in this power of sport, and we aim to create products and a brand that have a genuinely positive impact on people's lives, whether that's in a big or a small way.
We also believe that absolutely anyone can be an athlete. To us, performance is about more than just results or the end destination – it's about passion, the process and enjoying the journey - whatever your journey entails.
Our journals are made with this in mind. In just a few minutes a day, what brings them to life is your story. And when you're finished, we hope you'll keep your story in a safe place to look back on for years to come.
PLANET
Nature is our playground. We love it, so we want to celebrate and protect it, and we keep this in mind throughout everything we do.
We aim to make quality, long-lasting products with minimal environmental impact, as well as celebrate and promote the outdoors in the content we share.
Our journals are made with a high quality, natural latex-based vegan leather cover, with placeholder ribbons and elastic closure bands made from natural rubber and recycled plastic bottles.
All our products are made using FSC certified paper, printed using vegetable ink.
FOLLOW OUR JOURNEY
Follow @performancejournals if you're on Instagram and join us on our journey. We'd love to hear your story too, if you're comfortable sharing it, so don't forget to say hi and tag @performancejournals.
If you'd like to share your journey on our channels, we'd love to hear from you too. Email us at hello@performance-journals.com with more details and we'll get back to you.